It's been a weird few weeks, y'all, and I'm blaming Mercury retrograde. You've probably heard of this astrological phenomenon, since it's sucked up into pop culture in recent years. That may be because it happens fairly often – three times a year, for a few weeks at a time – but I think it's because it's really, truly annoying. Mercury is the planet that rules communication, travel, technology, and commerce, and when it goes retrograde (appears to move backwards in the sky) it makes those things go wonky – tech malfunctions, communication goes awry and travel gets snarled.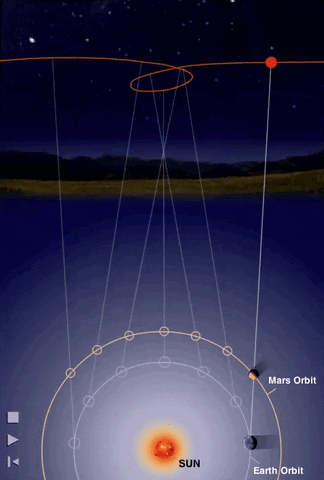 when a planet goes retrograde it appears to move backwards in the sky because of the relative locations of their orbit and Earth's
The wifi has been in and out of functioning for no apparent reason all morning, here at ALC-NYC, and I've been in and out of a not-fight with a friend for three weeks now. On Monday, I got to the train station to find that my metrocard expired, and all three of the machines at my station were only accepting cash. Luckily, I had enough cash for a single ride, but not for the monthly unlimited card that I rely on. When I swiped the card at the turnstile, though, it told me to swipe card again at this turnstile… and then it told me that I had an insufficient fare. I went and argued with the stationmaster about it, and they opened the gate to let me in. Then I went to school, did a whole day, and forgot about it – until I got on the bus in the afternoon. I swiped 2 different (empty) metrocards, shrugged at the driver and got on the bus. When I got to 86th street to transfer to my train, I thought to myself finally, I'll be able to get my unlimited and I won't have to deal with this any more. But, of course, none of the machines at 86th street were working either – every one of the (seven!!!!) machines at the station were only selling single rides. Knowing it's Mercury retrograde helped me find a sense of amusement about it as I bought a single ride, explained what was happening to a tourist, and swiped into the station just in time to miss my train.
Mercury retrograde is annoying, but it's not just an annoyance. It forces us to slow day, and slowing down things we take for granted makes us notice them – like how I discovered that I could, in fact, hold boundaries with my anxious brain on my Mercury retrograde journey to Australia last year.
I've been spending a lot of time, this retrograde, with my old notebooks and past selves – 25 books worth of them. I got sick the first week, and was forced to slow down all the way to a halt. I spent 4 straight days in my apartment, sitting with my changing selves. It is still loud in my head, but not a cacophonous as it once was, I'm noticing.
As I record my present selves – in free writes, in staff check in notes, in journals and reflections on tarot cards, in blog posts – and the data available to me about my patterns piles up, becomes several-cycles-worth of observations, I can see my self getting better at slowing down. I can trace the path of learning to hold my paradoxes: all of my thoughts are valid, even if they are not all as urgent as my brain would have me believe.
It's a shift that I didn't notice until this retrograde-review-cycle, but it's been a seismic one. It didn't start now, but now is when I can finally feel it: not all of my strongest thoughts and feelings are urgent and need to be acted on. It's really hard for me to just sit with them – to not go racing down the mental track of contingency plans and what-ifs and hypothetical conversations – but it is possible. When I read my traveling-to-Australia-through-Mercury-retrograde thoughts I can see the buds that are now flowering – I can't wait to discover the buds under this flower when I check back with this post in a year, or five, or ten…